The hybrid work model is an organizational work style that allows employees to decide how they split their time between onsite and remote work. While relatively new, the hybrid work model has rapidly gained popularity as workplaces rebound from the pandemic and establish all-new office policies.
For many of these organizations, however, the future of work remains hazy. Plenty of difficult questions remain: What's the best way to implement a hybrid work model? How much flexibility should we allow our employees and teams? What does a successful model even look like?
Here's the short answer: It all depends on your organization, your people, and their needs. The longer answer requires a much deeper dive. And that's where we have you covered.
In this blog, we'll explore:
What is a hybrid work model?
How is a hybrid work model different from remote work?
Managerial and leadership skills needed for hybrid teams
Should your team be in-person, remote, or hybrid?
3 best practices for hybrid work

1. Provide structure for your employees.
2. Find new ways to communicate.
3. Respect everyone's comfort levels.
There's plenty of ground to cover, so let's get to it.
What is a hybrid work model?
The concept of hybrid work started gaining momentum at the height of the COVID-19 pandemic. Amid federal mandates, social distancing, and widespread health and safety concerns, much of the workforce turned to home offices and virtual workspaces—many for the very first time.
For most companies, the decision to go remote came out of sheer necessity. The shift was swift and sudden, creating a "culture shock" of sorts for those new to remote work. Zoom fatigue made headlines. The lack of in-person face time triggered concerns about mental health. As employees attended to pets, parents, spouses, and children during the workday, maintaining a healthy work-life balance became all the more difficult.
Yet, many of these same employees eventually found their groove. Virtual meetings became more habitual, team members developed new efficiencies, and leaders began to understand what makes a successful team.
Remote work didn't click for everyone. But those who did enjoy it have made it clear: They don't want to go back to the old way of work. For businesses to succeed post-COVID, the clearest path forward is one that accommodates both sides of the aisle.
Enter hybrid work—a work model that encourages employees to split their time between office work and remote work. It prioritizes the employee experience, providing greater workday autonomy than perhaps any model before it. But flexibility only goes so far. It'll also take smart planning and careful execution to make your hybrid work model last.
How is a hybrid work model different from remote work?
The most important differentiator between a hybrid work environment and a remote one is degree of choice.
Pre-pandemic, most companies that offered remote work did so with notable caveats. Employees might have been able to work remotely, but only when approved by a manager or team lead. Even then, they may have only been allowed to work remotely for one to two days a week. Fully remote employees were generally still quite rare.
During the COVID lockdown, most of these optics changed dramatically. Entire teams abandoned meeting rooms and office spaces in favor of kitchen nooks and dining room tables. But it wasn't true autonomy. Remote workers weren't remote by choice.
In a hybrid workplace, choice comes first. Prefer working onsite, and want to return to the office? You can do that. Enjoy working remotely, and wish to continue? That works, too. Or, if you enjoy both, you can divide your time between the office and home how you see fit.
The goal, simply put, is to empower employees to work how they work best.
How much choice you allow ultimately comes down to your organization and team. If you work in a hospital, an all-remote staff might not be feasible. But with the advent of telehealth, nurses and other staff could take remote shifts, and come to the office as procedure dictates. By contrast, if you work in tech, employees may have complete autonomy over when (or if) they come into the office.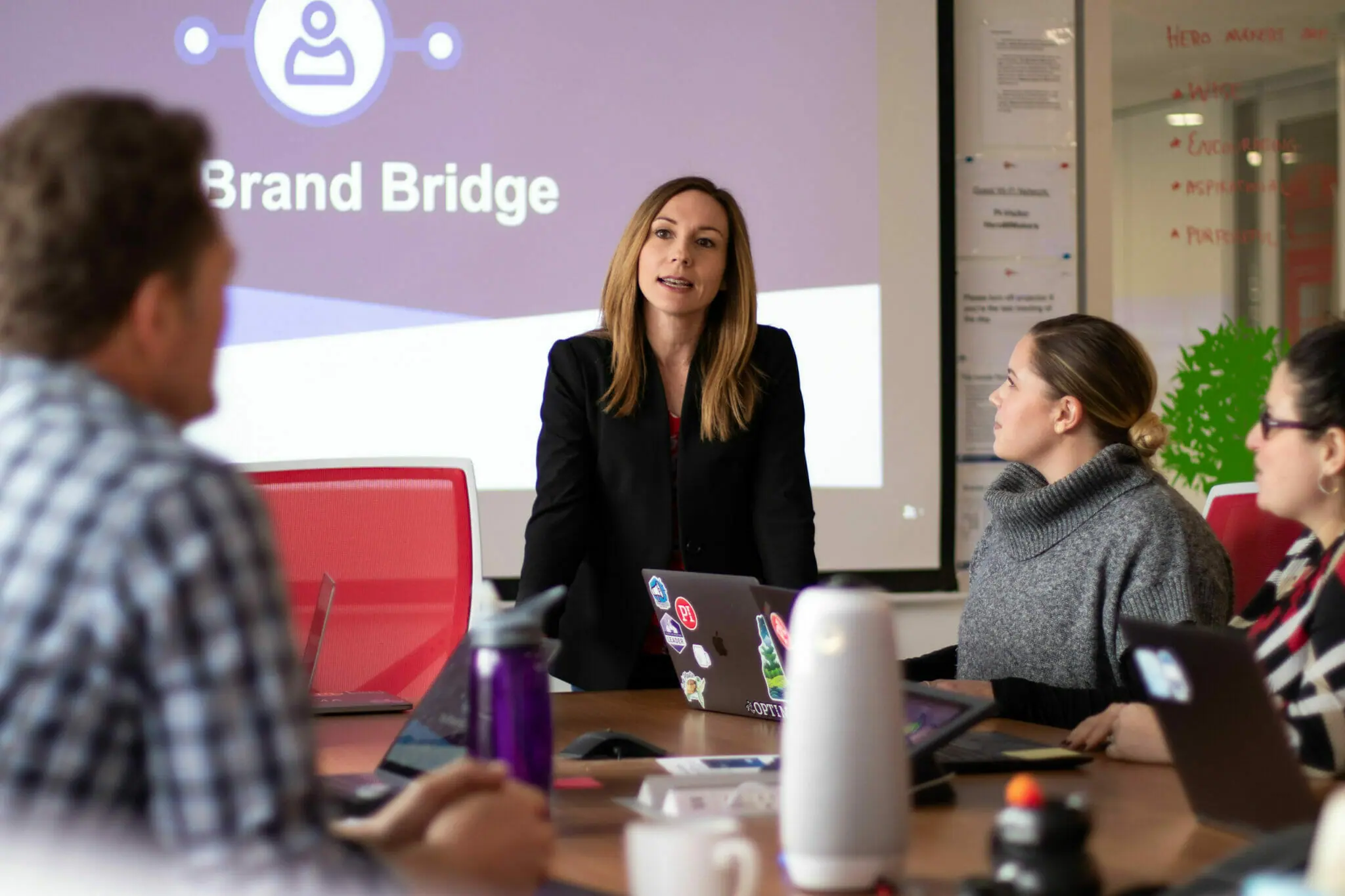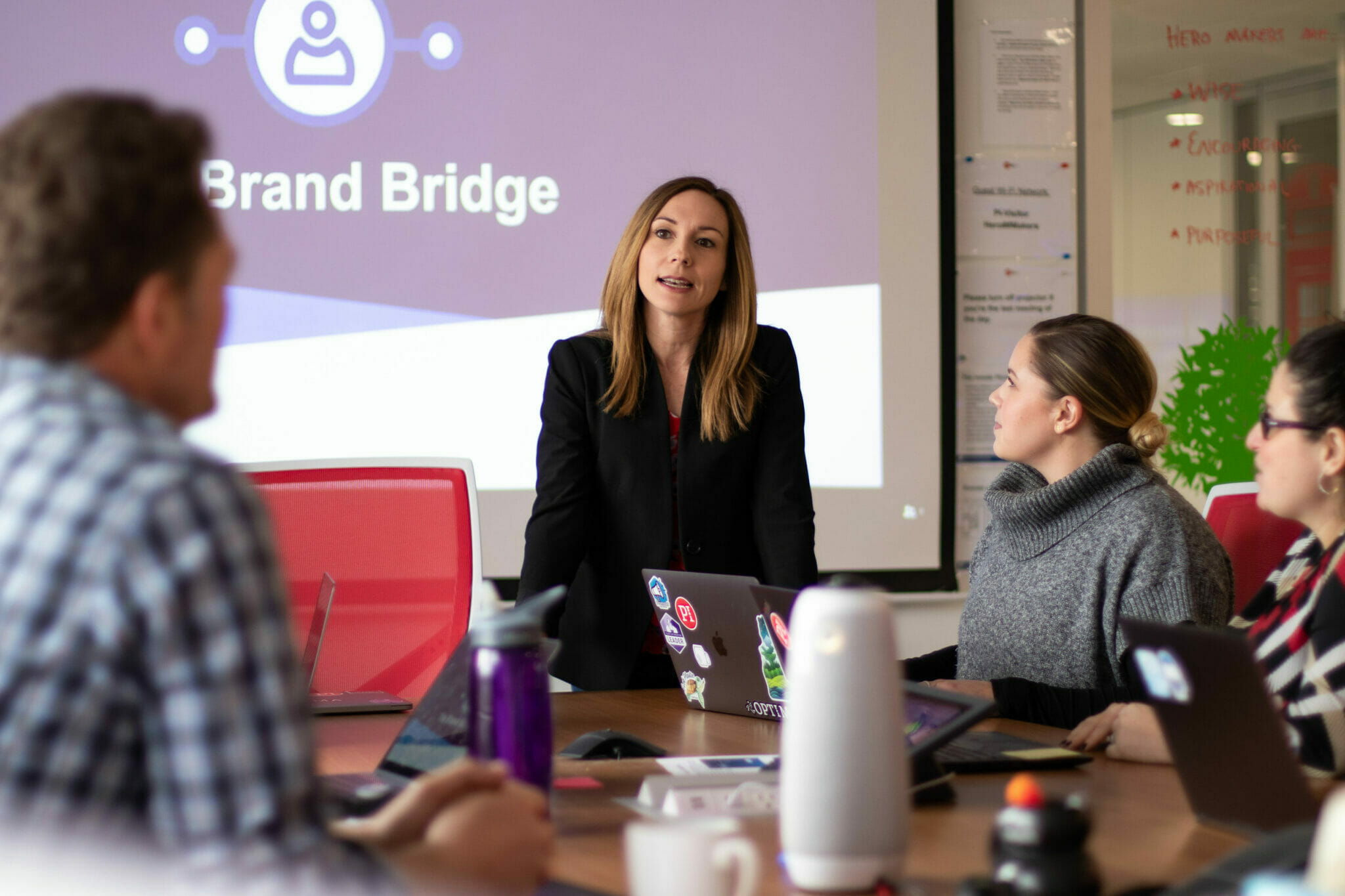 Managerial and leadership skills needed for hybrid teams
Hybrid work offers something unique to each organization, but if there's one constant, it's this: Expect change. This type of work arrangement is new to almost everyone. There is no "right" guidebook to follow, and rules and processes will likely evolve over time.
For leaders and managers, it takes an all-new set of skills to succeed in a hybrid workplace. While not an exhaustive list, here are three critical traits worth investing in:
Flexibility
Given the amount of choice afforded by a hybrid working model, flexibility has become a necessity. Remember that this is a transitional period. It'll take time for team members to adjust to hybrid work, familiarize themselves with new office policies, and create the right workspace for their needs.
Finding that balance will take some trial and error, so prepare for some bumps in the road. If you're relying on hybrid conference tools like Zoom, Microsoft Teams, or Cisco, budget a few minutes during each team meeting to sort out any tech troubles. If an employee can't make it into the office at a particular time, try your best to accommodate them. As always, assume good intent and approach each day with an open mind.
Empathy
Just as important as physical flexibility is emotional empathy. There are myriad factors behind employees' hybrid decisions—from childcare and night classes to healthcare and second jobs. Yet another factor to consider is one's innate behavioral drives.
Someone with a high extraversion drive might thrive commuting to the office five times a week. By contrast, someone with low extraversion might prefer to work remotely the vast majority of the time. As a leader, knowing these different work styles—who's coming back to the office, and who's not—is critical to understanding the needs of your hybrid team.
These hybrid work perceptions will likely continue to evolve over time, so it's important to keep a steady pulse on your team. By being aware of your people's hybrid needs, you can ensure you're tailoring your leadership style to accommodate them, all while maintaining strong communication and effective teamwork.
Curiosity
By committing to hybrid work, you're also committing to change. So, embrace that change! This is a new world to most, and nothing is set in stone. The most prepared leaders moving forward will be those who aren't afraid to question the old way of work and propose new ways to move forward.
When PI first implemented its hybrid working policy, we invited employees from around the country to join us for a "homecoming" week of festivities. Preparing for this event meant redesigning our office space with hotel desks for those flying in. It also meant creating processes around sanitation measures and mask wearing.
Even with tremendous prepwork, there was still the question of employee comfort. How can employees best interact with one another where it's safe to do so? One idea we found particularly inspiring was the use of color-coded wristbands by the Texas-based Relate Community Church. If you're wearing a green wristband, you're comfortable with a friendly hug or high-five; yellow means you prefer an elbow or fist bump, while red means you prefer to keep your distance.
It'll take inventive ideas like the above to create a hybrid workplace that's not just safe for all employees, but engaging, too. This may be a serious matter, but that doesn't mean you and your people can't have some fun.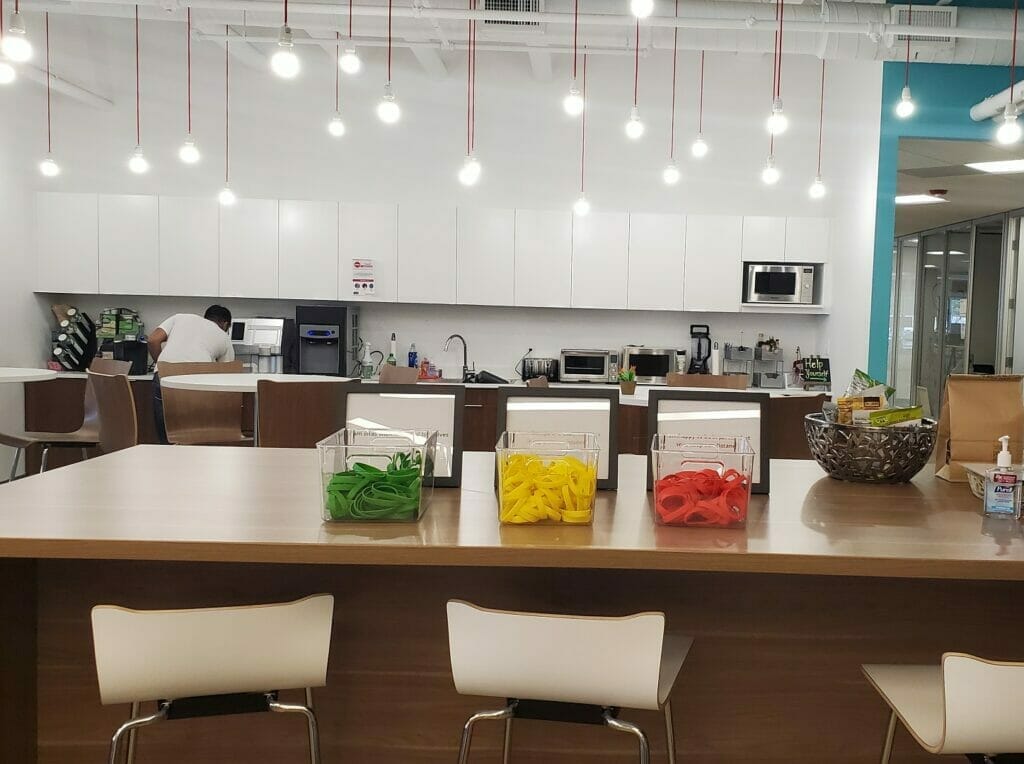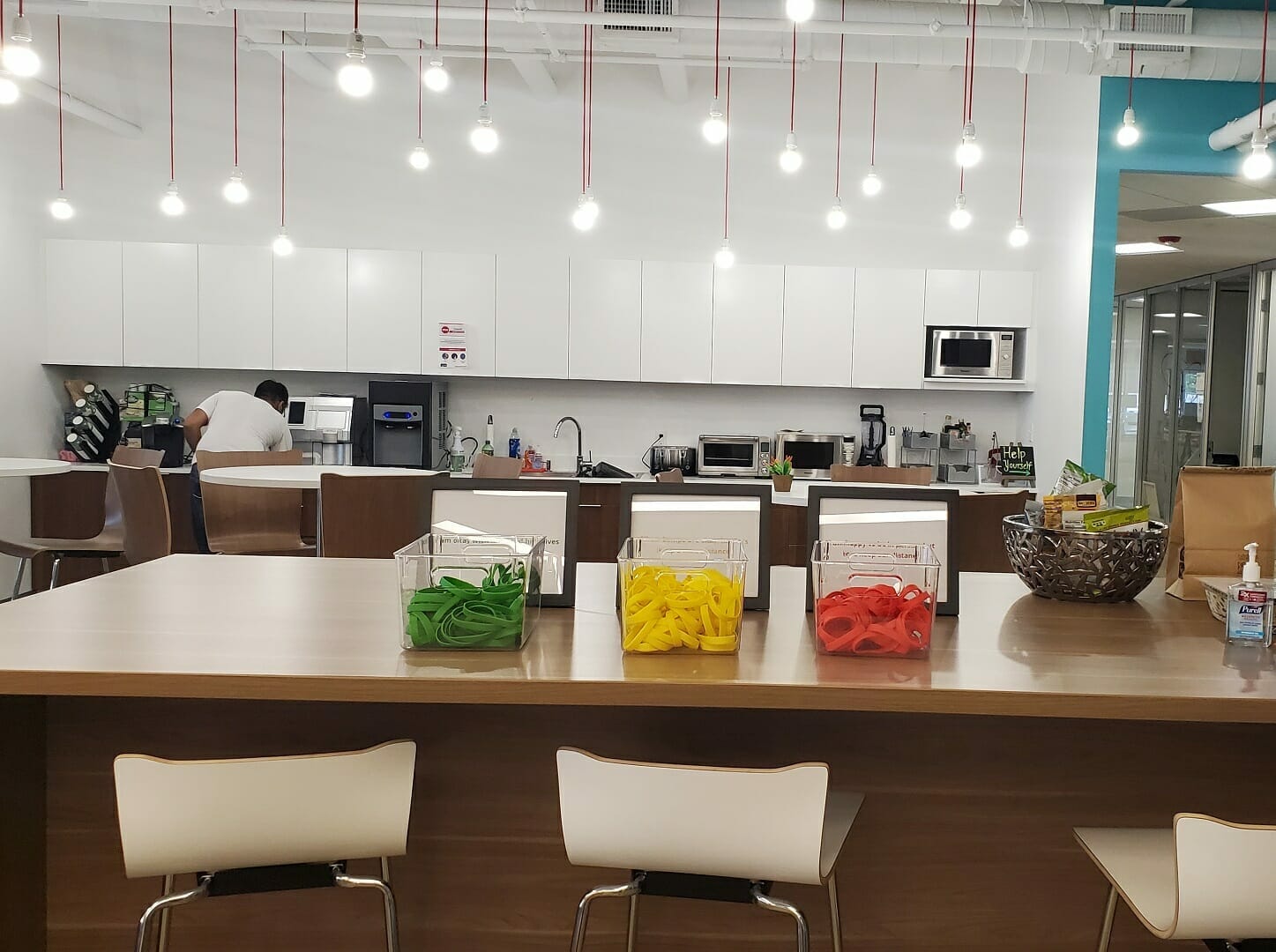 Should your team be in-person, remote, or hybrid?
When deciding what work model is best for your team, first consider the needs of your organization and people.
Earlier, we used the example of a hospital versus a tech company. The former is less likely to have fully remote teams, simply due to the nature of physical examinations and operations. However, a hospital could implement a hybrid model, where employees work remotely certain days of the week in staggered shifts.
You can apply the same thinking to any industry, with vastly different outcomes. Industries such as hospitality, food services, and retail may always have face-to-face team interactions. By contrast, technology, financial services, real estate, and others may lean heavier on the remote-first side of the spectrum.
While your industry, mission, and business strategy all help determine what work model is right for your organization, they're not the only factors at play. Just as crucial are the needs of the people working to execute that strategy and deliver on your mission.
Ask yourself questions that probe for the hybrid needs of your people. Potential questions include:
How dispersed is our team? Are most employees close to an office location?
Do we plan on growing the team? How open are we to bringing on remote talent?
Do we work best as a team when we're in-person? Can we replicate our work virtually?
Is workplace flexibility important to our company culture?
Will remote or hybrid work options improve engagement, retention, or inclusion?
Ultimately, the decision on where you fall on the remote, hybrid, in-person spectrum rests with leadership. No matter your place in the organization, these questions can help ensure leadership feels equipped to make a sound call—one that works for both the business and its talent.
Join 10,000 companies solving the most complex people problems with PI.
Hire the right people, inspire their best work, design dream teams, and sustain engagement for the long haul.
3 best practices for hybrid work
Creating a long-term, scalable hybrid work model is easier said than done. To ensure a smooth process, it's worth learning what you can from others in your industry. What are competitors doing? What processes are working, and what can be improved?
Despite the evolving nature of hybrid work, here are three ways we're finding success at PI:
1. Provide structure for your employees.
Change can be difficult for even the most adventurous employees. So any information you can provide your people in advance can only help them prepare and adapt.
At PI, that started with regular status updates on our office reopening plans. Once we had enough information about COVID-19 to make decisions, we began work designing an all-new remote work policy. This policy gave our employees, or "Pioneers," the choice between three options:
Field: Working remotely full-time
Studio: Working mainly in-office (i.e., three to five days a week)
Flow: Splitting time between the home and office (e.g., three days remote, two in the office)
We communicated these options six-plus months in advance of our actual return-to-office date. In doing so, we were able to address any concerns or anxieties, while providing time for employees to process the new policy and select the option that best reflects their ideal work style.
This policy won't necessarily work for all companies. Craft a policy that aligns with your own culture and people, and do so transparently.
2. Find new ways to communicate.
Once your policy is in place, you want to ensure your newly hybrid teams are set up for success. That starts with communication methods that lend themselves well to hybrid work and minimize distance bias.
Consider a workplace app like Slack. While we'd used Slack prior to COVID-19, we're finding the platform particularly helpful in a hybrid world. For example, we often use employee status updates to signal who's in the office, and when. Many teams rely on Slack's custom channels to ensure team members can get the information they need, regardless of their work situation.
We also rely heavily on our own talent optimization software. Using tools like PI Team Discovery, we're able to equip team members with the behavioral self-awareness needed to communicate with co-workers, whether in-person or remotely. Doing so helps us bring our best selves to work—so we can crush our goals.
It doesn't matter what tools you employ. What matters is that you leverage existing technology to tackle this new style of work, and build new processes as you see fit.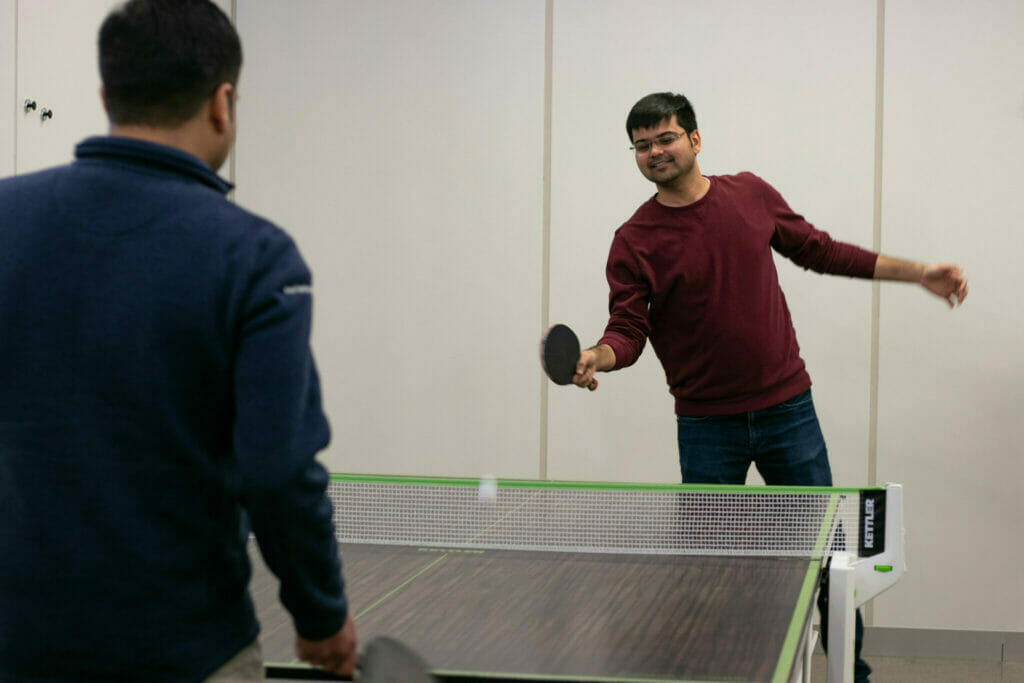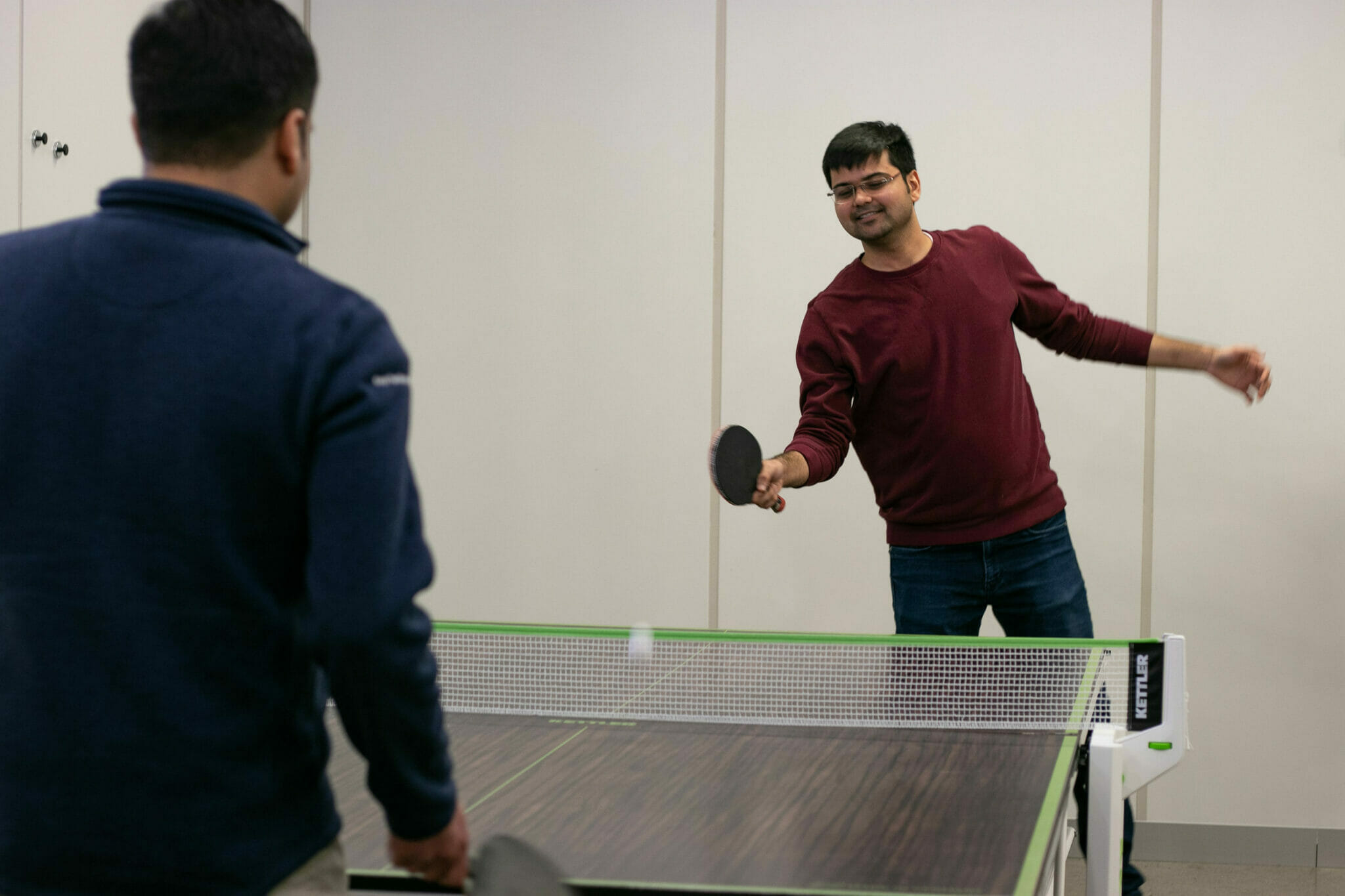 3. Respect everyone's comfort levels.
Your workplace is only as successful as the people coming to work each day. Before you enforce any rules or implement a new policy, make sure you're leading with a people-first mindset.
In a hybrid world, that also means leading with compassion and respect. Not everyone will be comfortable returning to the office five days a week. Physical health may be top of mind, but there's also the need for mental health and psychological safety.
Take time to check in regularly with your team members. Ask them if there are ways you and senior leadership can help build that foundation of safety and comfort. You may uncover pain points that go beyond hybrid work, to matters of diversity, equity, and inclusion.
Moving forward, all of these discussions are critical to sustained success. The best thing you can do as a leader is listen—then act accordingly.
Find a hybrid work model that works for you.
Hybrid work presents new challenges for the workplace. The transition won't be seamless. But organizations that learn to make the most of this new style of work stand to gain unprecedented flexibility, agility, and autonomy.
Work may never be the same as it once was. Perhaps that's not a bad thing.