By Steve Messina
Thoughts on how branding could help talent acquisition
You hear it all the time: in the never-ending battle for talent, you won't come close to winning if you fall behind on key areas of candidate attraction. It may not be the job description, salary, benefits, industry, or location that's preventing you from recruiting top talent. Instead it could be the fact that your brand doesn't hold up against the ultra-cool-modern-sleek 21st century company that throws thousands (or millions) of dollars behind their image.
Before comparing yourself to Google, that little company you've probably heard is awesome to work for, or any other organization that does employment branding right, you should look at your competitors. What's so great about their brand? What makes them look more professional than you? Take Gentle Giant, for example. They have a devoted careers page with pictures of how fun it is to work at their company.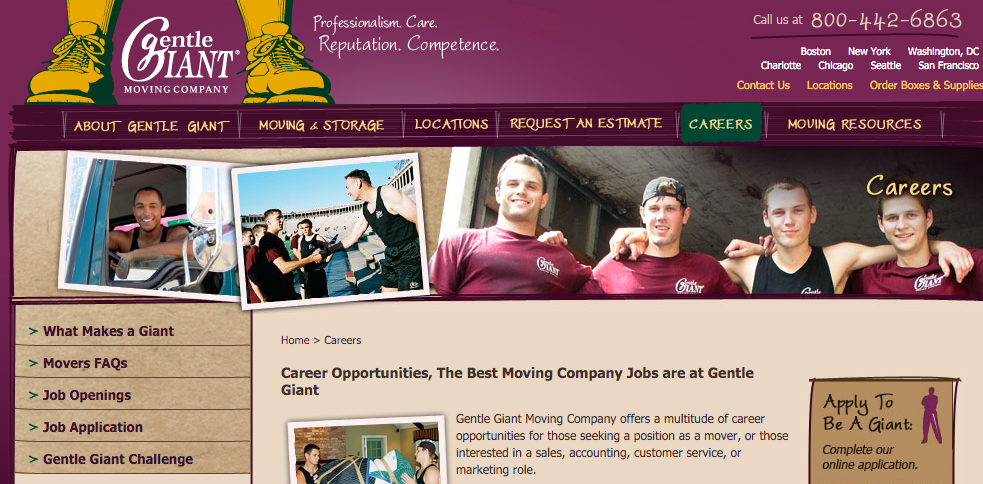 Gentle Giant Careers – "The Best Moving Company Jobs are at Gentle Giant."
It's not all about the careers page. The entire brand experience could attract a variety of candidates-good and bad. If your website is boring, do you think you're going to attract high-energy, enthusiastic, innovative employees? Maybe you will, but let's not take the risk. Just as you expect a candidate to be presentable at an interview, candidates expect you to make a good first impression as well.
If you have image issues and you don't make some serious changes, you may be missing out on more than just business. Don't let your company be seen as the leftover crumbs at the bottom of a cereal box. The next best VP, shiny new team member, valuable intern, or genius developer could be deciding between you and the company that looks better than you right now. You might be falling into a black hole of dead talent with your dull website and brand. Invest in refreshing your look and it'll pay off in ways you didn't think were possible.
Are you confident that your website truly shows your company's awesomeness? Let candidates know that your company is special and also truly cares about employees' wants and needs. That alone could be the key to ending your talent drought. If you don't have the branding, highlight your best attributes that will draw in candidates.
As a graphic designer, I know image is key, yet I accepted a job at The Predictive Index before its rebranding efforts were completed- I realized I could be a part of something larger. I was drawn to the company not by its image (which we quickly improved), but by the fact that employees were considered to be real people (with real feelings and emotions!) and were treated as such.
What draws people to your company? Whatever it is, maybe that's something you should be bragging about to job candidates, and top talent may not pass you up.