In a recent Friday Forward column, CEO of Acceleration Partners Bob Glazer addressed the global response to COVID-19. In his post, Glazer brought up the Stockdale Paradox, popularized by Jim Collins in his book "Good to Great." The paradox states that in times of crisis, those who emerge stronger are the ones who embrace the negative reality while remaining positive for the future.
As you walk this line between optimism and pragmatism, you may struggle to maintain team morale. It remains unclear how long social distancing will continue. Whether it's a matter of weeks or months, it's critical to keep teams motivated and mobilized around your goals.
This starts with maintaining a strong sense of camaraderie between co-workers—even from home.
Here are 10 remote team-building activities you can try.
Effective team building is essential to maintaining openness and trust. Yet it may feel like a tall order as teams work from home. Remote employees that used to bond over dinners and drinks must suddenly redefine their work relationships. Some may naturally find ways to reconnect, while others may be tempted to close themselves off until the dust settles.
In this blog, we'll share 10 remote team-building activities to help you build trust and improve communication. Whether you're looking to kick off a team meeting or celebrate a productive work week, we have you covered.
Let's dive in.
1) Encourage virtual coffee meetups.
Remote work is challenging for many, but it can be especially hard for your highly extraverted workers. Whereas more reserved individuals may be comfortable working alone for long stretches of the day, outgoing co-workers may feel drained by it. That's because they now lack the face-to-face interactions that energized them in an office setting.
To help them regain some needed face time, encourage your employees to schedule virtual coffee breaks. Tools like the Slack app Donut let you automate the process. Once every few weeks, the app pairs two co-workers together—often from different sides of the organization. It then prompts one of you to schedule a time (say, 30 minutes) to have a virtual chat over coffee.
By encouraging these meetups, you give your employees the opportunity to connect with those in roles outside their immediate team. You also give them an outlet to share pain points and swap best practices when it comes to remote work. These pairs may even find they face similar issues—and work together to solve them.

2) Kick meetings off with an ice breaker.
Especially in times of crisis, your team meetings may need to address very difficult subjects. Rather than let these meetings create stress for your teams, you can take some easy steps to make the proceedings more enjoyable for everyone.
Consider a light team-building exercise to kick things off. If your teams run daily stand-ups or check-ins, have team leaders take five minutes to pose some ice-breaker questions. These can be as simple as asking employees to brainstorm their ideal superpower or share their weekend plans. These questions help ease tension while encouraging team members to be active participants in the meeting.
If you're hosting an all-hands meeting, think of creative ways you can keep audience members engaged. Here at The Predictive Index, we take time each month to highlight any new hires. During this time, we also ask them to share a fun fact about themselves. Not only does this give these folks a chance to introduce themselves, but it also provides them with an interesting conversation starter their new peers may remember.
3) Hop on a video conference call for a virtual lunch.
Lunch is a natural part of the workday. In the office, it's an opportunity for co-workers to connect, walk away from their desks, and discuss topics outside of work. Others may opt for a "working lunch," but this can often be counterproductive. Without taking time to recharge, it can be harder to stay energized in the afternoon.
When remote, it's easier than ever to treat lunch as an afterthought. Stress the importance of taking breaks to your team members. Encourage managers and individual contributors alike to put down what they're doing and actually prepare a meal for themselves.
Better yet, use lunch as an effective team-building method. If you have video conferencing tools available to you (like Zoom, Skype, or Google Hangouts), pitch the idea of a virtual lunch. It's an easy way for remote team members to gain extra face time and participate in team bonding. It also promotes healthier work habits, while helping employees stay fresh throughout the day.
Join 10,000 companies solving the most complex people problems with PI.
Hire the right people, inspire their best work, design dream teams, and sustain engagement for the long haul.
4) Implement no-meeting times.
As a way to encourage shared lunches and coffee breaks, consider streamlining your employees' calendars. Shortly after PI went remote, we implemented three company-wide "no-meeting times." These consisted of an hour block at noon, plus two 30-minute slots—one each in the morning and afternoon.
The purpose of these blocks is two-fold. For one, they break the day up into more manageable 90-minute chunks. Research shows that working in sprints like these can help boost productivity. Secondly, they ensure every employee has dedicated time to tend to their personal health/needs. This includes having lunch with family members, going for a walk, or even reading a book.
You'll notice these times are the same for everyone, regardless of department. That's by design. Otherwise, team members with more cross-functional roles may find themselves working through these blocks.
By synchronizing these breaks across departments, you make them part of your company culture. This makes it easier to promote team cohesion throughout the organization.
5) Start a company book club.
A workplace book club is a wonderful team-building activity, remote environment or not. Not only is it a fun social event; it also provides educational value you can use to upskill your employees. Best of all, it's low-cost and relatively easy to organize.
You can start by inviting interested employees to a #book-club Slack channel. Then ask the group to come up with three to four recommendations for your first read. Ideally, each book will relate in some way to your mission or culture. From there, create a poll to decide the winner.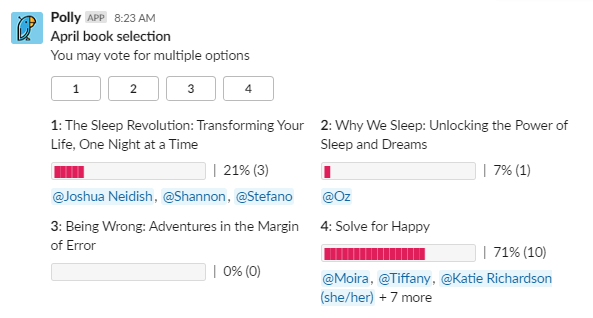 Logistically, all you need is a virtual meeting space, an agreed-upon time and day, and the books themselves. Due to the current crisis, you can ask club participants to download the ebook version onto a personal device. (If you let them expense the item, remind them to keep the receipt handy.)
Appoint a person interested in hosting the meeting itself. The facilitator should come up with some discussion questions a week before the meeting. They can also provide a summary of the book for those who didn't have time to read it but would still like to attend.
Make the meeting environment as welcoming as possible. Remind participants that this is a space of trust and safety. Encourage everyone to share their thoughts, and make sure they know their opinion is valued. Afterwards, schedule a new meeting for next month—and start again.

6) Host digital game nights.
Many companies host game nights to help employees unwind while forming lasting connections with their peers. You might think it'd be impossible to replicate this kind of event in a remote environment. After all, you need an actual board to play—right?
Not necessarily! Digital game nights are a fun way to promote team-building between colleagues and departments. Many of the board games you're accustomed to (from UNO! to Settlers of Catan) are available in online versions. Other games, like the popular Jackbox franchise, can be easily adapted for remote play by screen sharing during a video call.
If you have tech-savvy team members, they can use their webcam to play physical board games in real time over Zoom or Skype. Or, if you want something quick and easy to set up, consider simpler games like charades or Pictionary. You could even host a virtual trivia session, complete with gift card prizes for winning teams.
In short, there are plenty of options available to you. Regardless of what you decide on, it's bound to elicit some laughter while serving as an important destresser. And your teams will certainly welcome some normalcy back into their social lives.
7) Explore the behavioral strengths of your team.
Each of your employees has their own workplace drives and needs. Some may be super outgoing, with a preference to talk through decisions and ideas. Others may be more reflective, preferring to think things through before sharing. By understanding these tendencies, employees can ensure they're emphasizing their natural superpowers.
To help your employees achieve this self-awareness, you can try a behavioral team-building exercise. Start by having team members complete a behavioral survey, like the PI Behavioral Assessment. Then set aside time during your next weekly team meeting to go over the results.
Using PI Team Discovery, you can plot your employees' behavioral results onto a visual map. The tool will show you where there's natural alignment between the team and these objectives—and where there are gaps.
If your team is well-aligned with the current goals, great! Highlight these areas of alignment, and discuss how the team can lean on its strengths to make continued progress. Likewise, if there are alignment gaps, bring them to the group's attention. Brainstorm ways in which the team can stretch itself behaviorally to meet the current needs of the company.
You likely won't be able to get all of this done in a single meeting—and that's OK. People are complex, so it'll take time to fully understand the dynamics of your team. The idea is to give each of your employees something they can reflect on and learn from moving forward.
8) Create themed Slack channels.
Slack channels are a great way to keep teams organized and on task. But they're also a great way to build trust and bring remote workers closer together.
But teammates are no longer working next to or across from one another. They're no longer passing each other in the hallway or leaving work at the same time. So in a fully remote setting, it's tough to maintain the same water-cooler conversations you'd have in an office space.
You can use Slack to make up for this. If your employees have certain shared interests, encourage them to start/join a relevant Slack channel. These channels can range in function from sharing cooking recipes or music playlists to leading coding bootcamps. (At PI, we have over 300.)
Each of these channels serves as its own little community—providing new ways for your employees to engage with the organization. They don't have to be limited to hobbies, either; they can also focus on important lifestyle matters.
An example of this is our #PI-parents channel. We created this as a space for employees to share their parenting experiences. Once we made the shift to remote work, we began using the channel to discuss the challenges of working remotely with kids at home. It's an invaluable resource for many employees—especially those still adjusting to recent changes.

Slack channels can even help cater to employees with different behavioral tendencies. For example, a #books channel may provide more reserved team members a space to share reading recommendations. A #random channel, by contrast, may provide more outgoing team members a chance for miscellaneous chit-chat.
9) End the week with an optional happy hour.
It may be unorthodox, but a virtual happy hour is another creative way to build strong teams while remote. Consider scheduling a weekly event during which team members hop on a video chat to wind down with a beverage of their choice.
Try to avoid work talk during this group chat. Instead, provide a topic of conversation for team members (e.g., their ideal career, their favorite movie, etc.). Or run a virtual team-building game, like doing timed stand-up or dad-joke routines.
This is also a great time to celebrate recent accomplishments, whether personal or team-centric. Encourage employees to share news about recent moves, birthdays, home renovations, babies, and engagements. These events serve to humanize and mobilize the team, improving cohesion.
If you'd like to surprise someone (like for a birthday or work anniversary), you could even start up a secret Google Slides deck. Have each member of the team create a slide with words of celebration or encouragement. Add some visual effects and transitions, and you have your own virtual "Congratulations!" card.
10) Attend a team-building webinar or virtual workshop.
The current crisis has left many teams in precarious or critical positions. Whether it's working through a reorganization or addressing disengagement, there are a lot of variables to account for at any given moment.
A team-building webinar can give you the information you need to work through many of these concerns. Perhaps you're looking to make remote work more effective. Or, you may want to address the importance of maintaining a healthy work-life balance. No matter the circumstance, there are plenty of great resources available to you and your teams.
When facing a particularly critical situation, you can also attend a virtual workshop, like PI's Team Building Through Change. These are more hands-on learning experiences designed for you to attend alongside members of your team. Through a combination of digital learning, live presentations, and group assignments, you'll be able to pinpoint the issues impacting team dynamics. That way, you can take action to swiftly address them.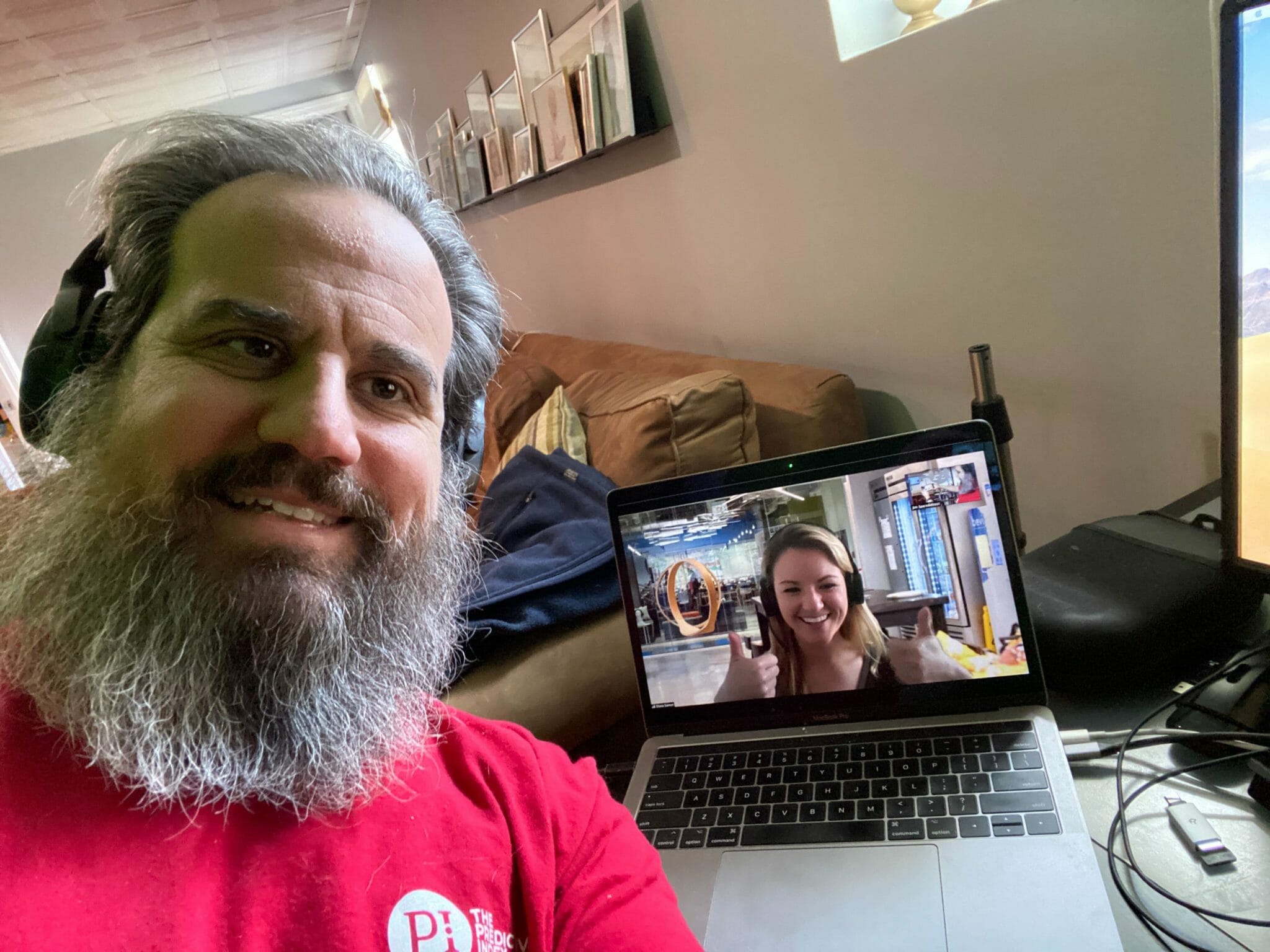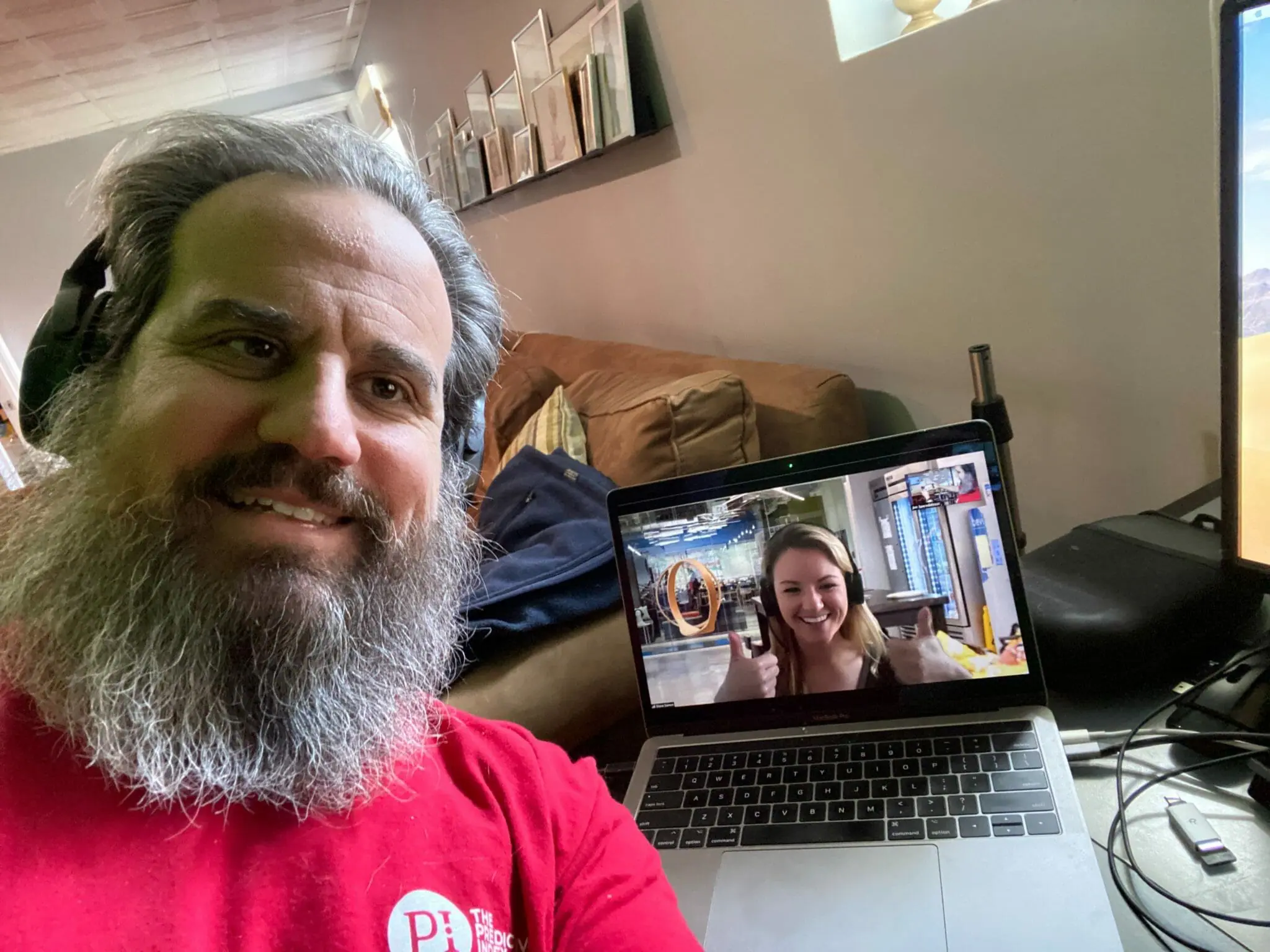 Maintain a healthy remote work environment with these tips.
In times of uncertainty, team building is one of the strongest tools at your disposal. You may not be able to predict every obstacle your team will face. You may not even have all the answers to the ones you do see coming. But you can always better your teams to help them even the odds.
Through it all, remember to stay candid with your people. Keep a steady flow of updates through all-company meetings and town halls. Use tools like Menti.com to ask team members how they're feeling before and after change.
At PI, we often say your people are your greatest assets. We hope these team-building tips help you remind them of this, too.