Perhaps you need to take the PI Behavioral Assessment™ and the PI Cognitive Assessment™ as part of the job search. Or maybe your company is considering purchasing PI to improve business outcomes. Either way, you want to know: What is The Predictive Index test? And how does PI work?
What is The Predictive Index test?
First of all, there are no PI "tests." The word test implies you can pass or fail, and that's not the case with any of PI's workplace assessments. The Predictive Index measures behavioral drives (Dominance, Extraversion, Patience, and Formality) as well as cognitive ability.
PI assessments help business leaders:
Understand the needs of a specific role, team, project, or business strategy

Collect candidate or employee "people data"

Use that data to make more informed—and more objective—decisions
These decisions include who to hire, how to manage, when to add a new executive, and more.
How you might use PI to make a hiring decision
You're a health care organization and you need to hire a registered nurse. Obviously there will be some basic education and skill requirements that must be met. But beyond that, a resume doesn't tell you much about a person's personality traits or learning speed. To predict whether someone's a good fit for the RN role, you'd need to answer questions like:
Will the candidate be assertive enough to

speak up

for patient safety?

Is the person wired to enjoy working with and through others?

Can they keep up with all the new technology, procedures, and treatments?
Join 10,000 companies solving the most complex people problems with PI.
Hire the right people, inspire their best work, design dream teams, and sustain engagement for the long haul.
The PI Job Assessment™ pinpoints the behavioral traits and cognitive ability someone would need to be successful in a given role. The PI Behavioral Assessment helps you determine if someone has the right personality for the job. And the PI Cognitive Assessment helps you understand the speed at which someone learns new information. Together, these PI hiring assessment tools increase your ability to predict candidate success.
Sure, you could ask a candidate a question like: Would you speak up for patient safety or choose the safe response of saying nothing? But when you ask leading questions like this one, you're feeding the candidate the right answer. They'll tell you what they think you want to hear. And that's no good for anyone.
Often, hiring managers choose the candidate with the most experience. That person might also have the right personality and the required cognitive ability. But unless you collect these candidate data points, you really have no idea. You're trusting your gut and making a guess.
What is the PI Behavioral Assessment?
Of all our workplace assessments, the most well-known is The Predictive Index Behavioral Assessment (BA). That's because it's been around for a long time! In fact, PI's founder, the late Arnold Daniels, created it in the 1950s. Since then, the BA has been updated—and thousands of companies around the world have used it.
Unlike other personality tests, the PI Behavioral Assessment is scientifically-validated for workplace use. This is true for most any job, most any work environment, and most any industry worldwide. In 2018, it was certified by the DNV GL; this means the BA meets the strict guidelines of leading psychology experts at the EFPA.
While the BA began as a hiring tool, companies now use BA data for many purposes. These include promoting employees, improving team dynamics, boosting productivity, and more.
Here are 10 facts about the PI Behavioral Assessment:
When used for hiring, it's used in conjunction with the PI Job Assessment.

The BA takes only six minutes to complete (on average).

It's an untimed assessment.

Assessment takers receive two lists of adjectives.

The BA is a free-choice, stimulus-response assessment tool.

Candidates can take it in the language of choice.

It measures

four behavioral drives

: Dominance, Extraversion, Patience, and Formality.

The BA is a good indicator of a person's workplace behavior.

After someone takes the BA, they get their unique behavioral pattern.

Assessment takers are also assigned one of 17

Reference Profiles

.
Hear what Jim Koch, Co-Founder of Boston Beer Company, said about using the BA to hire: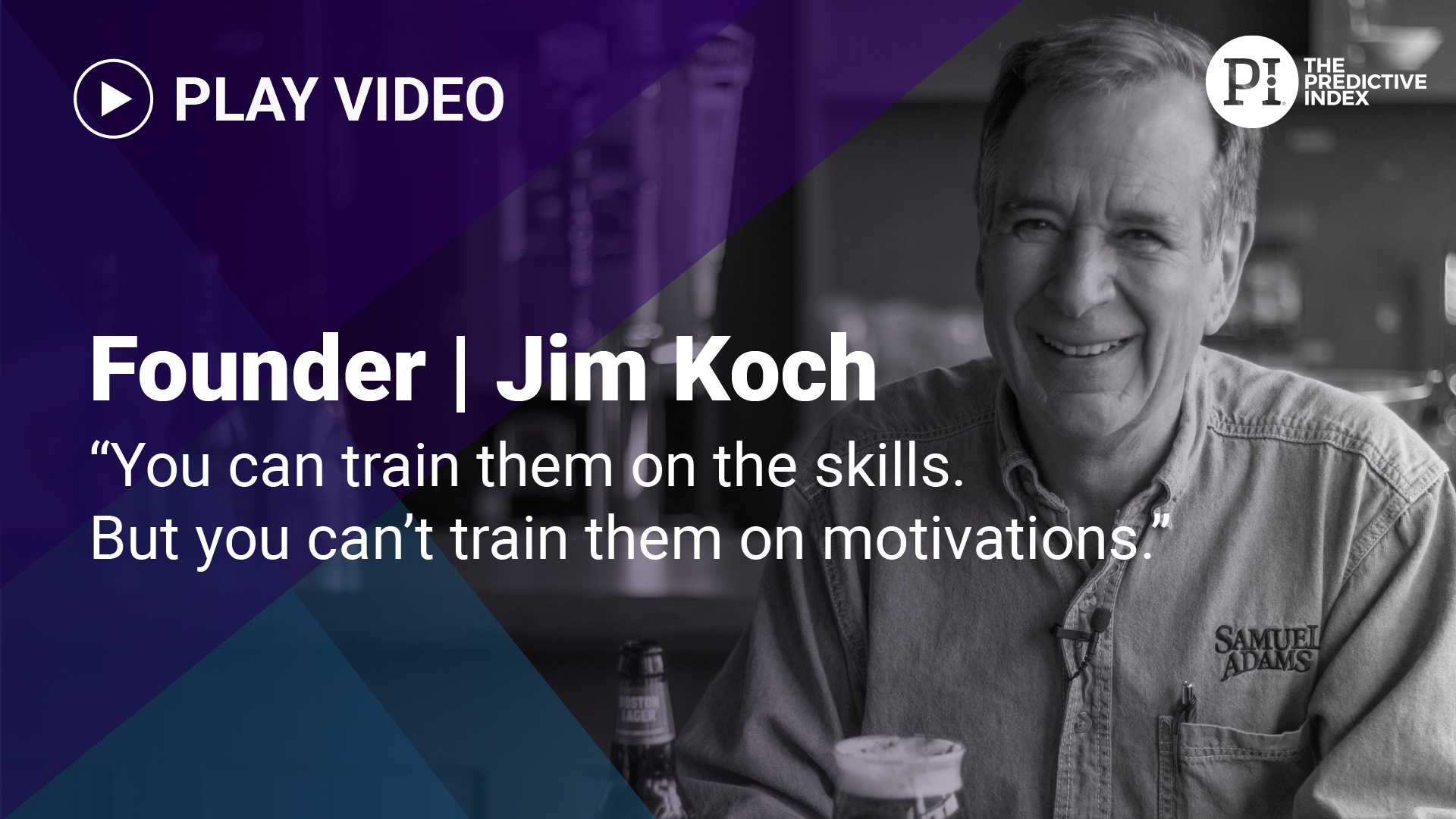 What is the PI Cognitive Assessment?
The PI Cognitive Assessment (CA) is a hiring assessment. The BA predicts future job performance in terms of behavioral fit. The CA predicts future job performance in terms of how fast someone will catch on, understand complexity, and figure things out.
Cognitive ability is widely considered one of the best predictors of job performance.
Different roles and work environments require different cognitive abilities. An entry-level associate with no direct reports and basic protocols to follow won't need to learn or process information too quickly. But a director tasked with acting on complex data and devising a multi-year strategy will need a higher cognitive score.
For this reason, we urge clients to never use the PI platform to set one baseline cognitive target. In doing so, you could reject candidates who might be an excellent job fit simply because they didn't meet an arbitrary target. Instead, use the PI Job Assessment to set a cognitive target based on the role and work environment.
Here are 10 facts about the PI Cognitive Assessment:
It's used in conjunction with the PI Job Assessment.

The assessment takes 12 minutes to complete.

It's a timed assessment.

Each candidate experiences a unique set of questions.

We encourage assessment takers to complete practice tests in advance.

Questions span three categories: numerical, abstract, and verbal.

Assessment takers have the chance to answer 50 questions.

The goal is to complete as many correct answers as possible within 12 minutes.

We designed the CA to minimize cheating.

There are no "good" or "bad" scores; view CA results in terms of job requirements.
We encourage clients to share the results of the behavioral assessment with candidates and employees. But we discourage the sharing of cognitive scores.
How to use behavioral assessment data outside of hiring
You've learned how to use the PI Behavioral Assessment to predict job fit when hiring. But you can use the people data collected via this quick six-minute assessment for so much more!
Promotions, managing, and improving team dynamics
Many companies promote top-performing individual contributors. And then they discover they're terrible at managing others. Typically, one of two things is happening.
First, they lack the behavioral traits needed to manage well. And they aren't willing or able to stretch beyond their comfort zone to be who the role needs them to be. Or second, they lack self-awareness of how their behavior affects their direct reports.
In either case, the PI platform can help. Here are two best practices:
1. Follow the same protocol for promotions as you would for new hires. If you're interested in promoting an existing employee, use the PI Job Assessment to pinpoint the behavioral traits needed for the role. Then see if the employee's behavioral pattern is a match. Probe into any behavioral gaps with the provided customized structured interview questions. This will help the employee understand how and where they'd need to stretch—and if they even want to.
2. All managers can use the PI platform to access the PI Inspire solution. Within PI Inspire, managers can leverage the Relationship Guide, Manager Strategy Guide to:
Help two teammates work more effectively together

Learn how to accommodate employees' individual preferences

Uncover why employees are working together but not reaching their goals
As long as the manager and their direct reports have completed the behavioral assessment, their data is in the software. This means it can be used to build self-awareness, communicate better, etc.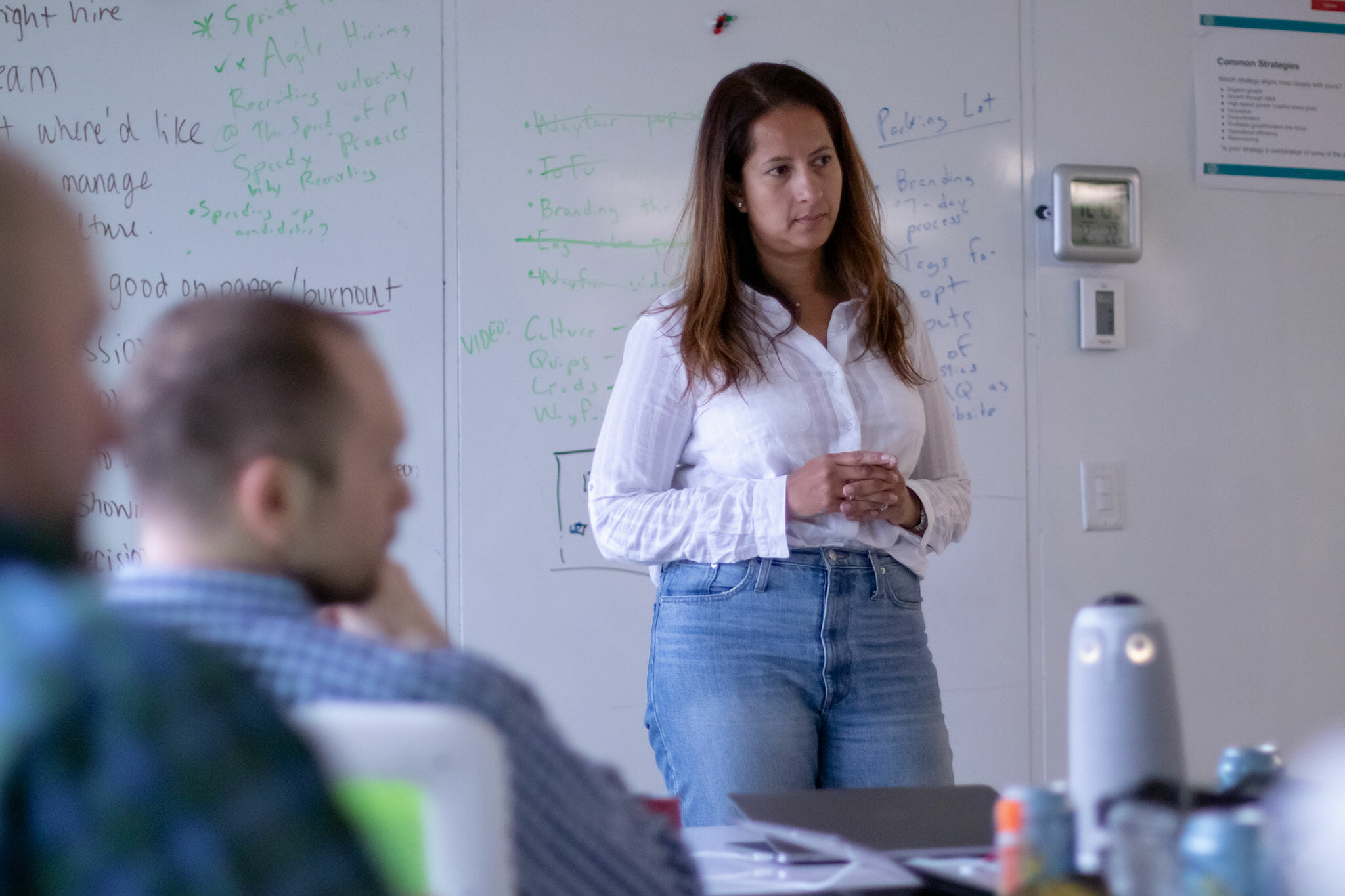 Ensuring fit between the business strategy and senior leaders
We created the PI Design solution to help business leaders understand how their team's behavioral style (or "Team Type") aligns with the team's strategic goals.
Step one is administering the behavioral assessment to each team member. From there, the software plots each person onto one quadrant: Innovation & Agility, Teamwork & Employee Experience, Process & Precision, and Results & Discipline. Next, the software assigns the team a Team Type, which describes your team's collective behavioral style.

Step two is selecting your team's strategic goals from a list. The big ah-ha moment? Seeing how aligned (or misaligned) your team is to its strategic goals. From there, you get tips to de-risk execution so you can move forward with confidence.

Watch the PI Design software tour.
Using The Predictive Index at your company
Now you know how the Predictive Index "tests" work. And you might be eager to learn how you could use them to solve your unique business challenges. Request a demo to speak to a talent optimization consultant who can walk you through the software and answer any questions.
Request a Demo
9,000+ companies trust The Predictive Index to create dream teams.
Request a Demo
See how PI's Talent Optimization Platform can help your company hire with certainty, inspire your teams, and sustain lasting employee engagement.
Get Paid For Your Feedback
Join our research program today and get paid for your feedback. Earn an Amazon gift card of up to $100 for each session you attend. You'll get a first look at what we're working on, and you'll get to influence and improve our website.
Join the Program Now