Talent Management
Assess candidates from Profile and view PI pattern image with links to report and person details
ClearCompany has constructed a built-in integration with The Predictive Index, enabling users to order a Behavioral assessment directly from the Candidate Profile view using Action > Initiate Assessment.
Upon completion, recruiting users can view pattern graph images from within ClearCompany and access the full report through links to The Predictive Index. Following links to open a PDF report or view other content requires a PI software login.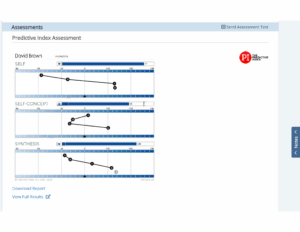 To obtain this integration, contact your ClearCompany Customer Success Manager and arrange for the add-on agreement and fee.
Then go into the PI software to Generate an API Key that you can provide to ClearCompany support.
Assessments
Results
Behavioral Pattern Image
Link to Behavioral Report PDF
Link to PI Person Page
Features
Order assessments directly from the Candidate Profile view using the Action > Initiate Assessment
Assessments are linked to Candidates so one assessment is accessible to more than one job application
View the Behavioral assessment results as a pattern graph image directly in ClearCompany software
Follow a link to Behavioral Report PDF
Follow a link to the PI Person Page where you can view all related content and reports for the individual
Access to PDF report and other content requires logging in to the PI software
Costs
ClearCompany charges an annual maintenance fee for this integration
Fee is variable according to subscription size
Languages Supported
Any
English
French
German
Japanese
Spanish
Simplified Chinese
Traditional Chinese